L D F Retards The Functionalities at Trivandrum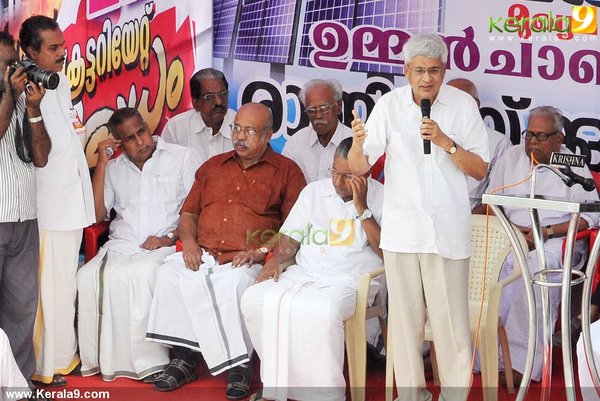 The LDF strength show in demand for for the resignation of Chief Minister Oommen Chandy in relation with Solar Scam, blocked three gates of the secretariat this morning. Police managed to keep one open and through that, Oommen Chandy and cabinet members went inside. Police has kept some force in reserve inside the secretariat in case if the protest goes beyond their control. Meanwhile, L D F leaders have burnt the white flag shown by the ruling party for talks and they are demanding the resignation. To add fuel to the fire, a local television channel has leaked a photograph which has Sarita Nair and Oommen Chandy together last year in January.
L D F is planning now to retard the functionalists of the secretariat by blocking all the four gates soon. National leader of L D F Prakash Karatt has urged the party leaders to continue with their protest and he mentioned that the resignation is needed and rulers have to face legal proceedings after that. Ramesh Chennithala has said that, this kind of a protest is truly undemocratic to make the government fall down and this would never be allowed. The schools are on holidays and sale of liquor has been banned and central forces are camping at Trivandrum. L D F has called each and every volunteers from their branch committees as well as they have managed to arrange food and accommodation for those people from the other districts of Kerala.